The capacity of R-1005 rotary evaporator is 5L,it has good heat resistance and shock resistance,and explosion-proof optional.

It adopts track-type combination and automatic lifting,stable and reliable,low noise,and limit protection.

The bath is equipped with a protective cover to avoid accidental burns when heating.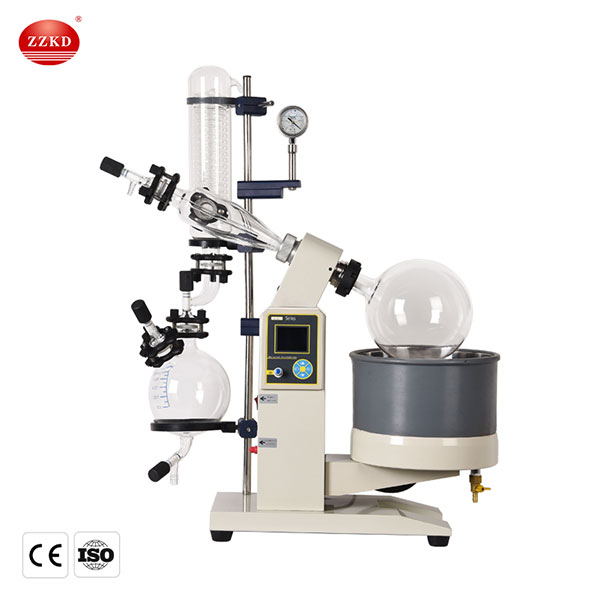 New upgrade
Heat resistant bearing with oil permeability,and long service life.
Pretty appearance
Automatic lift
Rapid separation
Imported glass and uniform glass thickness
Environmental protection coating material
Adjustable temperature range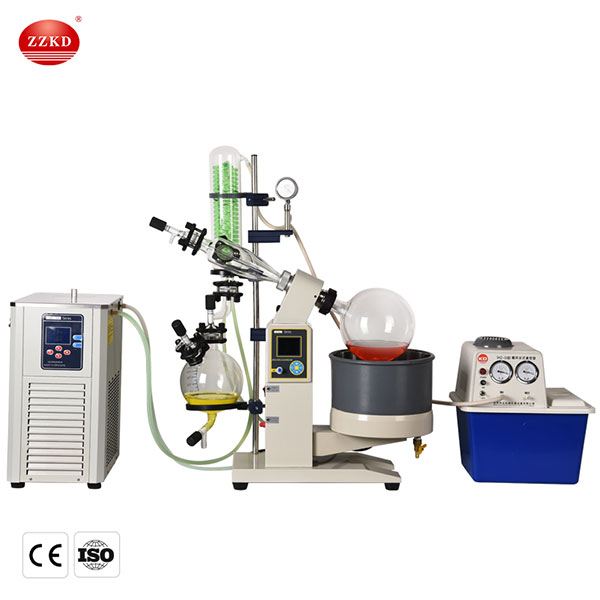 Features:
- Advanced EL gas-tight system keeps high vacuum degree.Gas-liquid separator, no reflux.
- Main and auxiliary condenser, high recovery.
- The rotating flask is easy to install and setup.
- Continuous feed are available. (Inlet Valve)
- Water(oil) bath,electric lifting, intelligent PID temp. controller.
- Reasonable structure, exquisite material, with brake casters for easy movement.
- Mechanical parts are made of stainless steel and aluminum die casting.
- Adopt corrosion and high temperature resistance borosilicate glass.
- Rubber parts adopt new standard materials, easy to change for users.
- Built-in transmission system, frequency conversion speed regulation, stable speed.
- Explosion-proof system is optional.
- 110 V/60HZ can be customized.
Mode
R1005
R1010
R1020
R1050
Working power supply (V/Hz)
Single phase 220/60
Three phase 220-240V/380v/60Hz
Main engine speed (RPM)
10~140
20~130
20~110
Rotary electric machine (W)
40
Brush-less 250
Rotating bottle (L)
5
10
20
50
Recovery bottle (L)
3
5
10
20
Condenser tube
Vertical double coil
Vertical main cold+cold side, high efficiency
re-flux condenser
Water bath pot material
Stainless steel
Water bath pot size (mm)
Φ300×170
Φ350×220
Φ450×260
Φ550×320
Lifting function
Electric lift
Electric + hand lift
Lift stick (mm)
0~150
0~160
0~190
0~180
Whole power (KW)
2
3
4
4.0(220-240V)
Outline dimension (mm)
7650×400×1070
920×550×1700
1250×600×2100
1320×770×2340
1) What is a rotary evaporator used for?
In chemical labs, a rotary evaporator (sometimes called a rotavap) is used to evaporate solvents quickly and gently from samples.

2) What is the working principle of a rotary evaporator?
The working principle of a rotatory evaporator is that the boiling point of liquids decreases as the pressure is reduced. When cooked in a typical environment, the solvent vaporizes at lower temperatures. For your rotavap, you should pick a vacuum pump that will boost evaporation efficiency.

3) What is a rotary evaporator used for?
As previously stated, scientists utilize a mini rotary evaporatorto separate solvents from liquids. Among other things, rotary evaporators are used for the following three purposes:Pharmaceutical sector,educational purposes,chemicals,etc.
---