Large double-layer glass reactor | The mechanical components of the 100l jacketed glass reactor use stainless steel and aluminum alloy parts. The material discharged from the glass reactor has a flange opening and a PTFE valve. There is no dead angle inside the container, which can be removed. Convenient for the discharge of solid materials.


Features

- The glass reactor system uses an efficient condenser to ensure a high recovery rate.

- The glass interlayer interface is added with hot oil, through the loop, it can do reaction under the condition of high temperature; the glass inter layer interface added with cooling fluid can carry on reaction under the condition of low-temperature.

- Double-layer glass reactor discharged material has flanged opening and PTFE valve, without dead angle inside the container, it can be demounted to facilitate the discharge of solid materials.

- The double-glazed reactor system has a reasonable structure.Stainless steel and aluminum alloy parts for mechanical parts,Electrical component parts: The main components use imported equipment.

- Double-layer glass reactors cover opening design: constant pressure hopper opening (or as inlet), condensation reflux inlet, thermometer bushing opening, solid feeding opening (or an outlet) and mixing opening.

- The range of the glass reactor stirring rate is 10-1100 r/min.
Detail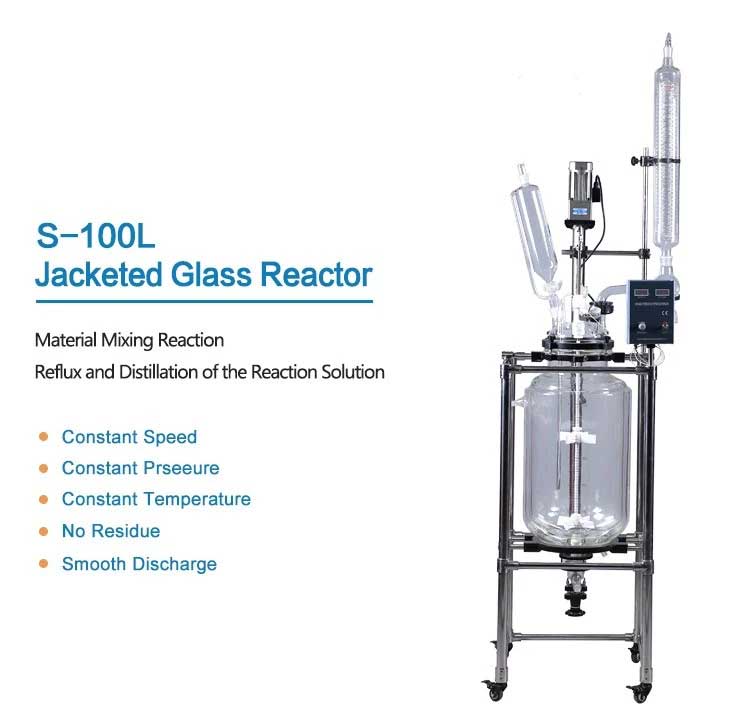 - Machine Parts
Gear Motor
1. International standard copper wire.
2. High efficiency, long running time, good stability, no noise.
3. Standard gears, no gap and abrasion resistance.
4. CE certification.
- Main Features
Stirring Shaft
The stirring shaft is made of stainless steel and coated by PTFE. Stainless steel supports high strength and PTFE avoids material being contaminated
- Machine Parts
Easy to disassemble PTFE material with no dead ends. solid/liquid material can be easily released from the bottom.
For the perfect use of the entire glass reactor system you may need the following equipment

- High and low-temperature machine
After sale

- 1 year warranty service and all life maintenance.

- Technical Egineer are avalible for oversea trainning.

- Free change for some parts

- Remote control technical consult

- Free installation DVD

- Maintenance plan
Package

Transport

| | |
| --- | --- |
| Model | S-100L Jacketed Glass Reactor |
| Stirring Power(W) | 180 |
| Stirring Speed(rpm) | 0~600(max.1300) |
| Stirring Shaft Diameter(mm) | 15 |
| Reaction Flask Capacity(L) | 100 |
| Voltage(V/Hz) | 220 50/60 |
| Motor Torque(g/cm) | 3000 |
| Note | 304All Stainless Steel Frame |
1.Can the stirring rate of the glass reactor be set?
Of course, the AC inverter we use has the characteristics of infinitely variable speed, you can set the stirring speed.

2.Is the large glass reactor easy to move?
The large-capacity glass reactor vessels we produce have universal casters that are very convenient to move.

3.What kind of equipment is required for jacketed glass reactor vessels?
The double-layer glass reactor needs to be combined with a high-temperature circulating water/oil bath, a low-temperature coolant circulating pump, and a vacuum pump to increase the efficiency of the entire glass reactor system.

4.Which payment method do you accept?
Usually we accept TT, Paypal, Western Union, Alibaba Trust and Letter of Credit. The exact payment method and shipping method will be discussed during the transaction.

---