The 30l jacketed reactor equipment produced by the glass reactor manufacturer is subject to strict product quality control and we will provide you with the best quality glass reactor. The 30l jacketed reactor we produce are certified to ISO and CE. 30l jacketed reactor is double layer Glass design, the inner layer is put into the reaction solvent, which can be used for stirring reaction, and the interlayer can be connected with different cold and heat sources (refrigerated liquid, hot water or oil) for cyclic heating or cooling reaction. Under the condition of set constant temperature, in the sealed glass reaction kettle, the stirring reaction can be carried out under normal pressure or negative pressure according to the use requirements, and the reflux and distillation of the reaction solution can be carried out. It is a modern fine chemical, biopharmaceutical and new material. Ideal pilot test and production equipment for synthesis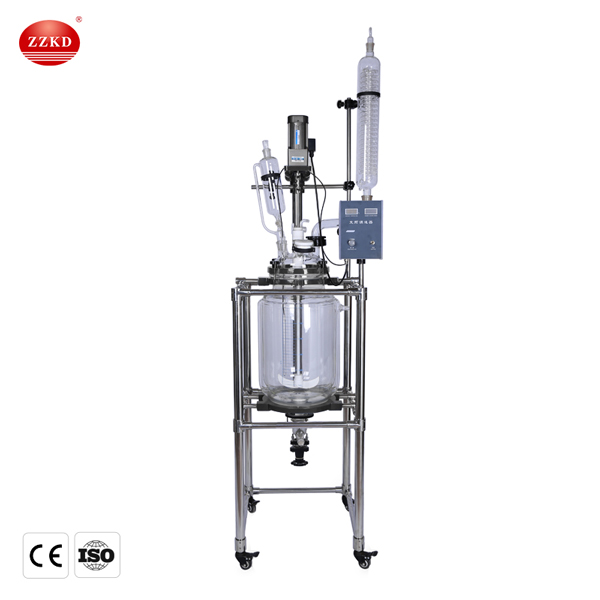 30l jacketed reactor features
1. It can be used in a wide temperature range from high temperature (300℃)to low temperature(-80℃).
2. It can work in constant pressure and vacuum, vacuum degree is below 0.095MPa in a quiet situation.
3. Digital display of mixing speed, frequency conversion, and constant speed mixing system, work steadily.
4. The mechanical sealing method and materials between mixer shaft, PTFE mixing paddle; separating kettle cover is convenient to disassemble, clean and install.
5. The cooling or heating solution in the interlayer can be completely removed after reaction.
The complete system of 30l jacketed reactor usually includes:
· Reactor body
· Stirring unit
· Vacuum unit
· Temperature control unit
· Liquid feeding and liquid dropping unit
· Atmospheric/vacuum distillation unit
· Other special customized units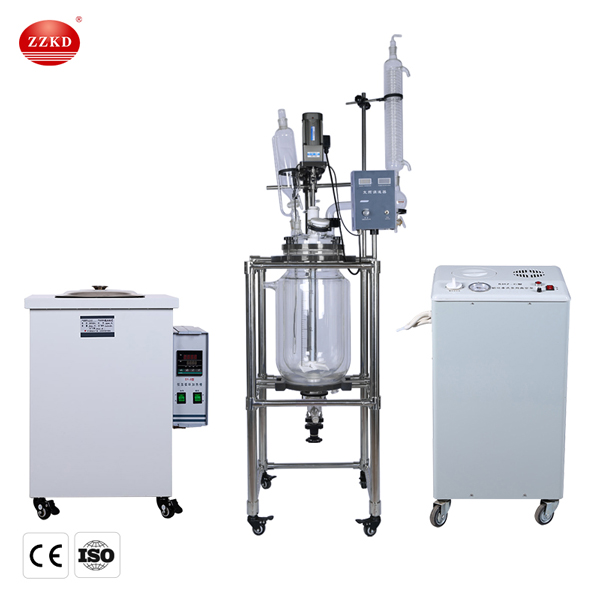 Detailed description of the main components of the 30L jacketed reactor:
1. Reactor part:
· Jacketed reactor, made of borosilicate glass
· Working volume: 30L
· Kettle body opening: 300mm
· Split type lower discharge valve, opening 0~14mm
· Open kettle cover: can be installed with agitator, constant pressure dropping funnel, reflux condenser, cooling coil, temperature sensor, vacuum pump, etc.
· The kettle cover and the kettle body are connected by a quick-opening flange
· The parts in contact with the liquid are made of borosilicate glass or PTFE, with excellent chemical resistance
· Three-legged stainless steel movable stand and four-legged stainless steel movable stand are optional
· The whole system can be moved at the same time, ensuring the stability of the whole set of equipment and the flexibility of space placement
2. Stirring part:
· Top-mounted stirring system to ensure the stability of the whole set of equipment
· A variety of stirring motors are available: electric or pneumatic, digital control or analog control
· Double O-ring stirring seal bearings to ensure high sealing of the system
· Polished glass stirring shaft, shaft length 800mm, diameter 19mm, glass, stainless steel and PTFE coating materials are available
· The stirring paddle is made of PTFE material, double-layer stirring, and it can also be easily replaced with other forms of stirring paddle according to the experimental requirements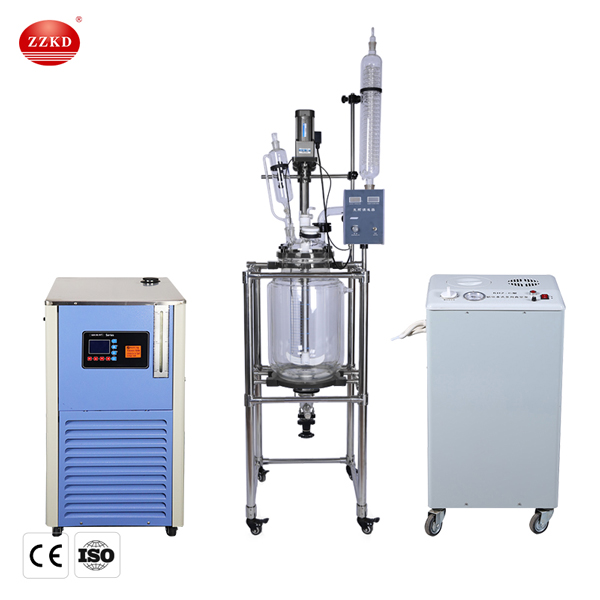 3. Vacuum unit:
· Various models of vacuum pumps/pressure pumps are available.
· Diaphragm vacuum pump
· Rotary vane oil seal vacuum pump
· Vacuum control system
· Oil-free piston pressure pump
4. Temperature control part:
· Full series (-95~+400℃) of temperature control products are available
· The newly launched PRESTO fast dynamic temperature control system is suitable for external temperature control, with fast heating and cooling speed, wide temperature range, and no need to replace the medium in the whole process
· Multiple safety protection: low liquid level and alarm, high and low temperature alarm, etc., to ensure the smooth progress of the experiment
· ICC temperature control technology, automatic temperature control parameters, to ensure good temperature stability of the system
· Refrigeration temperature control equipment adopts fluorine-free environmentally friendly refrigerants
· Jacket temperature control, more fully play the role of temperature control equipment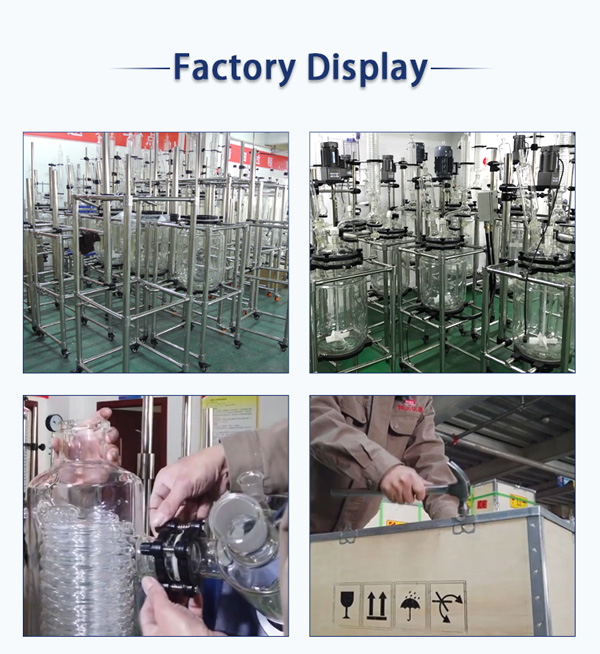 The 30L jacketed reactor is a commonly used biochemical instrument, which is selected by modern fine chemical industry, biopharmaceutical, scientific research and experiment industries, and can be used for concentration, distillation, reflux, separation, and purification reactions under constant speed, constant force, and constant temperature conditions. It is an ideal instrument and equipment for teaching, experiment, pilot test and production.
| | |
| --- | --- |
| Model | S-30L Jacketed Glass Reactor |
| Stirring Power(W) | 60 |
| Stirring Speed(rpm) | 0~600(max.1300) |
| Stirring Shaft Diameter(mm) | 120 |
| Reaction Flask Capacity(L) | 30 |
| Voltage(V/Hz) | 220 50/60 |
| Motor Torque(g/cm) | 1200 |
1.How do I choose a vacuum device for my glass reactor?
If your glass reactor is a small glass reactor equipment, such as a 1L, 2L, 3L, 5L, 10L glass reactor vessel. You can choose from benchtop circulating water vacuum pumps, rotary vane vacuum pumps, and diaphragm pumps.
If your glass reactor equipment is a 20L, 30L, 50L, 80L, 100L large glass reactor, you can choose a vertical circulating water vacuum pump to meet your experimental needs.

2.How will you delivery these goods?
It will be decided according to your quantity. Normally we will choose International Express, Air and sea.

3.What's the difference between a single-layer and double-layer glass reactor?
Single-layer glass reactor can directly heat or cool, it is similar to water or oil bath, inferior in temperature control aspect; while double-layer glass reactor has interlayer between two layers, we can inject water or oil through temperature control equipment and form circulating system, in this way, no matter cooling or heating, its temperature control property is better.

4.Which payment method do you accept?
Usually we accept TT, Paypal, Western Union, Alibaba Trust and Letter of Credit. The exact payment method and shipping method will be discussed during the transaction.

---