Laboratory blast drying oven equipment DHG-9030A. Smart LCD programming temperature controller with overtemperature protection and digital display. The inside of the drying oven is made of mirror argon arc welded stainless steel and has excellent corrosion resistance.

Features

- Micro-computer control with timing.

- Inside the oven is made of mirror argon arc welding stainless steel.

- Outside the oven made from high quality steel, attractive appearance, novel.

- Adopt Micro-computer PID temperature controller with over temperature deviation protection and digital display.

- Timing function, precise and reliable temperature control accuracy(Intelligent LCD programming temperature controller optional).

- Heated air circulation system consists of air blower and suitable air flue.

- Continuous operation at high temperatures, Improve temperature uniformity.

Detail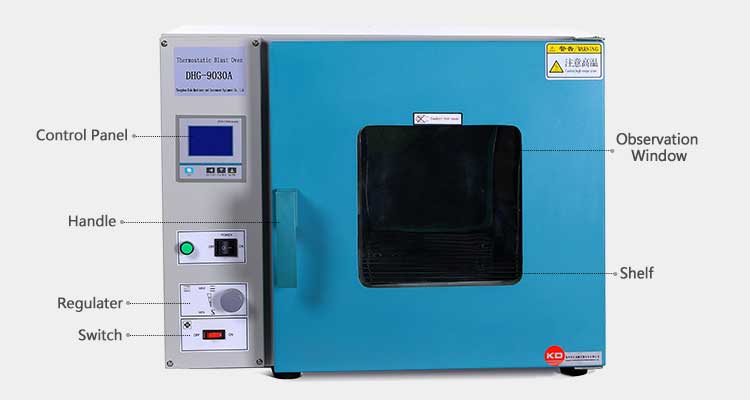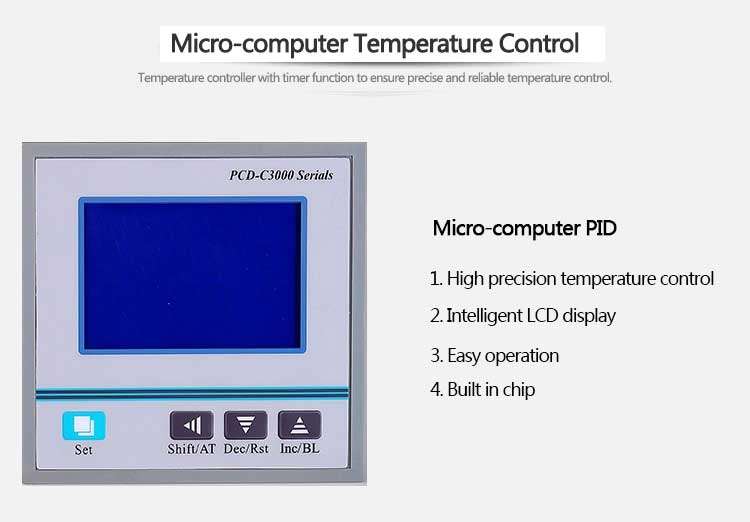 For the perfect use of the entire blast drying oven system, you may need the following equipment

- Circulating water type multi-function vacuum pump

- Diaphragm vacuum pump

- Rotary vane vacuum pump
After sale

- 1 year warranty service and all life maintenance.

- Technical Egineer are avalible for oversea trainning.

- Free change for some parts

- Remote control technical consult

- Free installation DVD

- Maintenance plan

Package

Transport

| | |
| --- | --- |
| Model | DHG-9030A |
| Power Supply | 220V/50Hz |
| Shell Material | Spray-paint Anti-corrosion |
| Liner Material | 304 Stainless Steel |
| Temp. Range | RT+10~250°C |
| Temp. Stability | ±1.0°C |
| Temp.Analysis | 0.1°C |
| Working Temp. | +5~40°C |
| Input Power (W) | 850 |
| Chamber Capacity (L) | 40 |
| Inner Dimension (W*D*H, mm) | 340*340*340 |
| Overall Dimension (W*D*H, mm) | 630*600*500 |
| Shelves (Pcs) | 1 |
| Time Range | 1~9999 min |
| Optional Configuration | EX |
1.What is your max temperature?
Max 250℃, 200℃is normal.

2. Structure of the blast drying oven
The outer casings of all specifications of the drying box are made of high-quality plates and sprayed on the surface. The materials used in the working room are made of high-quality stainless steel and have 1 to 6 shelves. The insulation layer is filled with fiberglass insulation cotton. The doors and windows are equipped with double-layer high-temperature tempered glass observation windows, and a silicone sealing surface is embedded in the joint between the studio and the cabinet to ensure that the studio environment is isolated from the outside world. The operation components such as the power switch and temperature controller of the drying box are concentrated on the control panel on the left side of the front of the cabinet.


3.What is the temperature range of the DHG series blast drying oven?
Temperature setting range: -RT+10~200.0°C;
Basic error of temperature measurement: < 0.3%;

4.Why can't the laboratory blast drying oven be vacuumed?
- The vacuum pump is not the correct model specification.
- Various connecting pipes (heads) are loose, and the inner diameter is too fine
- Vacuum gauge damage
- The drying box door is not closed
- Vacuum drying oven door seal rubber aging loses elasticity
- The bleed valve and vacuum valve are connected incorrectly

---