The hot air circulating drying oven is also called fruit and vegetable drying oven,the working principle of the fruit and vegetable drying oven machine is that the air source is driven by the circulating air supply motor (using a non-contact switch) to drive the wind wheel through the heater, and the hot air is sent out, and then goes through the air duct to the inner room of the oven, and then the used air is sucked into the air. The duct becomes the air source for recirculation and heating to ensure the uniformity of indoor temperature.When the temperature value swings due to door opening and closing action, the air supply circulation system quickly resumes operation until it reaches the set temperature value.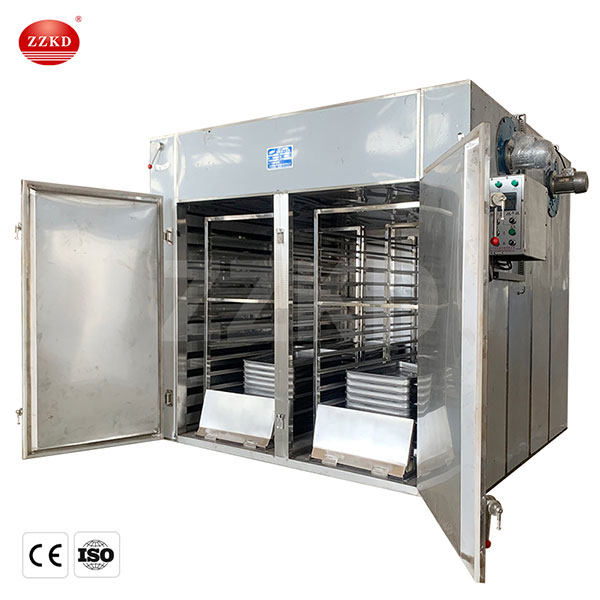 CT-C-I hot air circulation oven configuration and technical parameters:
1. The inner wall is made of stainless steel.
2. The outer wall is made of stainless steel.
3. There are 48 baking trays in total, and the size of the baking tray is 640mm×460mm×4mm.
4. Insulation material: glass wool, thickness 80mm.
5. There are 2 stainless steel drying cars.
6. One energy-saving flow fan, power: 0.45KW.
7. Heating method: electric heating, stainless steel tube power: 15kw.
8. Operating temperature: 50℃~100℃ (adjustable).
9. 1 set of digital temperature controller.
10. Dimensions (width × depth × height): ~2300 × 1200 × 2000 (mm).
11. Generally, the temperature range of the hot air circulation oven is room temperature ~ +250 °C, and the high temperature type is room temperature ~ +500 °C.
Features:
1. The hot air circulation oven has high thermal efficiency and saves energy.
2. There is an air duct in the oven, and the material is evenly dried.
3. The oven runs stably, adopts automatic temperature control, and is easy to install and maintain.
4. It has a wide range of applications and can dry various materials, such as fruits, vegetables, traditional Chinese medicine, etc. It is an ideal general-purpose drying equipment.
Application:
Fruit and vegetable drying oven is widely used in medicine, chemical industry, food, agricultural and sideline products, aquatic products, light industry and other industries, such as raw materials, traditional Chinese medicine, powders, granules, vegetables, fruits, etc.
TIPS:
1. Do not overcrowd the items in the box. Convective space must be reserved so that the moisture can slow down and overflow on the wind top.
2. Do not put flammable materials in the drying box without explosion-proof device.
3. After each use, the power supply should be partially cut off and the box should be cleaned.
| | | | |
| --- | --- | --- | --- |
| No | Name | Specifications and Materials | Quantity |
| 1 | Main body | Inner and outer walls made of stainless steel,the insulation layer is made of glass wool, with a thickness of 80mm. | 1 |
| 2 | Drying car | Made of stainless steel | 2 |
| 3 | Baking pan | Made of stainless steel | 48 |
| 4 | Energy-saving fan | Power:0.45kw | 1 |
| 5 | Electric heating | Power:15kw | 1 |
| 6 | electrical controller | Assembly, temperature digital display automatic control | 1 |
Model
CT- C-0
CT- C- IA
CT-C-I
CT-C-II
CT- C-III
CT- C-IV
Drying capacity
(kg)
25
50
100
200
300
400
Heating power
(kw)
9
12
15
30
45
60
Steam heating area(m²)
10
15
20
40
80
100
Blowing rate
(m3/h)
3400
3400
3450
6900
10350
13800
Drying tray
(pcs)
16
24
48
96
144
192
Length × width × height (m)
1.4x1.2x1.6
1.4x1.2x2.0
2.3x1.2x2.0
2.3x2.2x2.0
2.3x3.22x2.0
4.45x2.2x2.0
Trolley
1
1
2
4
6
8
1. What are the structures of the fruit and vegetable drying oven?
The outer body of the hot air circulation oven is made of stainless steel, and the glass fiber insulation is filled between the outer shell and the working room, and the temperature is controlled by a digital display controller.
2. What types of hot air circulation ovens do you have, do you support customization?
Models of our hot air circulation ovens include: CT-C-0, CT-CI, CT-C-II, CT-C-III, CT-C-IV, if these cannot meet your requirements, please tell us your Demand, we support customization.

3. What kind of materials is your hot air circulation drying oven usually used for drying?
There are many materials that can be dried, such as: fruits, vegetables, Chinese medicinal materials, seafood, powder, wood, etc.
---