The 10L rotary vacuum evaporator has a dual coil condenser for better condensation. It is available in an explosion-proof version.

Features

- Teflon(PTFE) and fluorine rubber double rotating seal, patent technology to ensure high vacuum

- The temperature control system, accurate and reliable.

- In does not affect the system and solution under the condition of vacuum distillation. continuous collection

- The PTFE disscharge valve, corrosion resistance, no pollution.

- Adopt corrosion and high temperature resistance borosilicate glass.

- Rubber parts adopt new standard materials, easy to change for users.

- We have two kinds of conventional and explosion-proof type, can be selected according to the experimental environment.
Detail
- Rotary Bottle:

Large sise,easy to clean.With special handle, convenient disassembly.

- Brushless DC Motor:

Small size, light weight, large torque.Stable and reliable, simple repair and maintenance.Shock resistance, low noise, low vibration, smooth operation and long life.

- Double coil condenser:

All glass is GG-11 without bubble type, high definition. Double-layer coil, large evaporation area, good condensation effect.

- Clip:

All flanges are clamped and patented. For demolition, good sealing and high temperature resistance.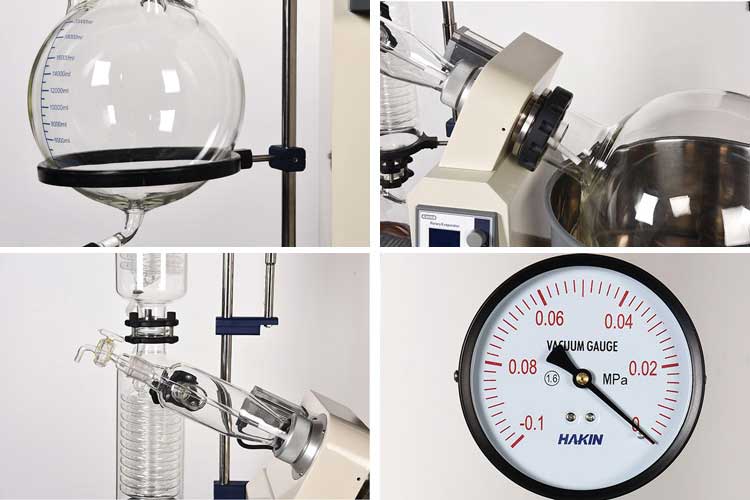 For the perfect use of the entire rotary evaporator system you may need the following equipment

- Low temperature constant temperature reaction bath

- Circulating cooler

- Constant temperature circulator
After sale

- 1 year warranty service and all life maintenance.

- Technical Egineer are avalible for oversea trainning.

- Free change for some parts

- Remote control technical consult

- Free installation DVD

- Maintenance plan
Package

Transport
| | |
| --- | --- |
| Model | R-1010 Rortayr Evaporator |
| Optimum ambient temperature(℃) | 5-35 |
| Working power supply(V/Hz) | Single phase 220/60 |
| Main engine speed(RPM) | 20-130 |
| Main engine speed control | Digital direct current stepless speed regulation |
| Rotary electric machine(W) | Brushless 250 |
| Temperature control(℃) | Digital display temperature control,room temperature -99℃ |
| Maximum vacuum(Pa) | 399.9(Below 3mmHg) |
| Rotating bottle(L) | 10 |
| Recoverty bottle(L) | 5 |
| Condenser tube | The vertical main cold+cold side,high efficiency reflux condenser. |
| Evaporation capacity(L/h) | The water is more than 3.2 Alcohol is more than 6.5 |
| Water bath pot material | Stainless steel |
| Water bath pot size(mm) | φ350*220 |
| Lifting function | Electric lift |
| Lift stroke(mm) | 0-160 |
| Whole power(Kw) | 3.0 |
| Outline dimension(mm) | 920*550*1700 |
1. How many degrees does the cryogenic pump of the R-1010 cool down?
We can produce cryogenic pumps up to -120 ° C, and the DLSB series of cryogenic coolant circulation pumps range from -5 ° C to -120 ° C. With a 5L to 100L effluent capacity, you can choose from it. Customized requirements.
2. Does the circulating water vacuum pump have 110V/60Hz power?
Of course, the vertical circulating water vacuum pump has vacuum pump equipment of different powers such as 220V/50Hz, 220V/50Hz, 110V/60Hz. The SHZ series of circulating water vacuum pumps are suitable for rotary evaporators of 10L, 20L and 50L.
3. How to package glass equipment?
We package these glass equipment in a good non-fumigation standard plywood box, which can reduce the shock and better protect the glass part of the equipment.
---