The N-1100d rotary evaporator is a kind of 2L small rotary evaporator uses an AC induction motor and a PID temperature control device for long-term operation and precise temperature control.

N-1100-D Rotary Evaporator System
Features

- Double sealing of Teflon (PTFE) and fluoro rubber, the technology guarantees high vacuum.

- The suction nozzle of the condenser is lowered and safer after connection with the vacuum tube.

- Modular design for scalability.

- Easy lifting operation, smooth up and down movement, and easy to lock.

- Special motor, worm gear and smooth drive.

- Speed display, intuitive and convenient operation.

- The temperature is controlled by PID and the temperature is controlled accurately.

- The bath is separated from the main unit for flexible configuration.

Detail
- AC induction motor:

using Japanese technology - AC induction motor, stepless speed regulation, no brush, no spark, can work effectively for a long time.

- Water bath:

Rotary evaporator chassis, bathtub, main rod and shaft are made of high quality stainless steel, beautiful appearance and corrosion resistance.

- Digital control:

Intelligent temperature control, water and oil bath, more widely used. The temperature fluctuation is relatively small, only ±0.2 ° C, the evaporation is more stable, it is not easy to rinse off the material.

- Collection bottle:

The collection bottle is made of ball mill, which is convenient for connection and unloading, and has high sealing performance.
For the perfect use of the entire rotary evaporator system you may need the following equipment

- Low temperature constant temperature reaction bath

- Circulating cooler

- Constant temperature circulator
After sale

- 1 year warranty service and all life maintenance.

- Technical Egineer are avalible for oversea trainning.

- Free change for some parts

- Remote control technical consult

- Free installation DVD

- Maintenance plan

Package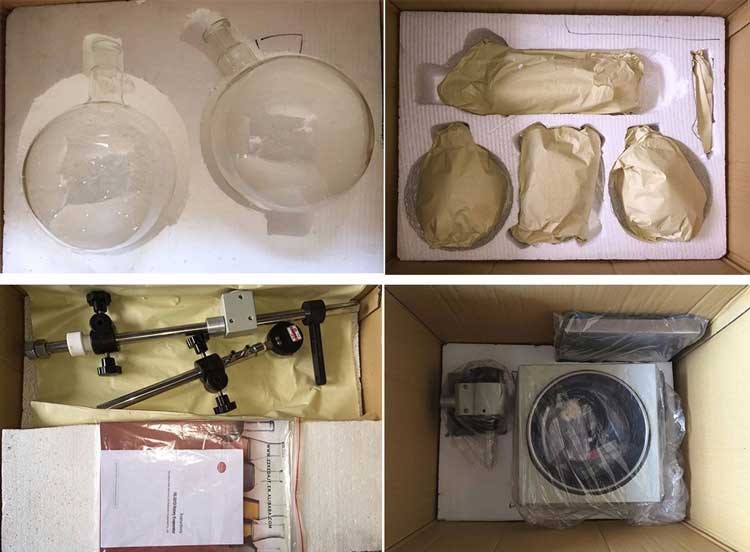 Transport
Product Name
Rotary Evaporator
Model
N-1100-D
Performance
Rotary Speed(rpm)
10~180
Evaporation rate(ml/min)
20
Max.Vacuum Degree(Pa)
399.9(<3mmHg)
Function
Rotary Speed Setting
Knob type stepless speed control.
LCD display
Security
Overload protection
Lifting
Manual weight balancing
Structure
Electric Motor
Output power 25W
Condenser
Double Spiral Coil
Rotary Bottle(L)
1~2
Receiving Bottle(L)
1
Glass Rotating Shaft(mm)
φ15*190
Seal Ring
Teflon,
fluorinated rubber double seal
Specification
Interface Caliber(mm)
Outer diameter φ10
Machine base(mm)
T-shaped frame
460*320
Lifting Height(mm)
100+150 slide and manual
Operating Temp.(℃)
5~35
Current and Power(A/W)
0.16/35
Weight(kg)
9.5
1. Can the N-1100-D rotary evaporator use a rotary vane vacuum pump?
We do not recommend the use of a rotary vane vacuum pump because the rotary vane vacuum pump generates water vapor when it is evacuated. The N-1100-D rotary evaporator does not have a portion that condenses water vapor. Once the water vapor enters the rotary vane vacuum pump, the vacuum pump will overheat and cause damage to the vacuum pump.
2. What are the requirements for the selection of the cryogenic cooling equipment of the N-1100-D rotary evaporator?
For the cryogenic cooling equipment of the rotary evaporator, it is recommended to select the DLSB-5/10 model low temperature coolant circulating pump produced by our company. The cooling capacity of this model is 5L and the minimum temperature is -15 °C. Our N-1100-D rotary
evaporator has a rotating bottle capacity of 1~2L, so the DLSB-5/10 cryogenic coolant circulation pump is fully suitable for the N-1100-D rotary evaporator.
3. What is the maximum temperature?
Temperature range: RT - 180 °C oil bath.
Temperature range: RT - 99 °C water bath.
---