The 50L large capacity D-R1050 rotary evaporator has a dual condenser, and the double receiving bottle can greatly improve work efficiency.
Features

- D-R-1050 rotary evaporator has two receiving bottles and two condensers

- High recovery

- good air tightness

- Reasonable structure

- Patented technology and appearance

- Innovative and simple elegance

- Safe operation and spring valve protection glass

- High quality borosilicate glass for a variety of applications

- Exclusive use of non-corrosive stainless steel for long life
Detail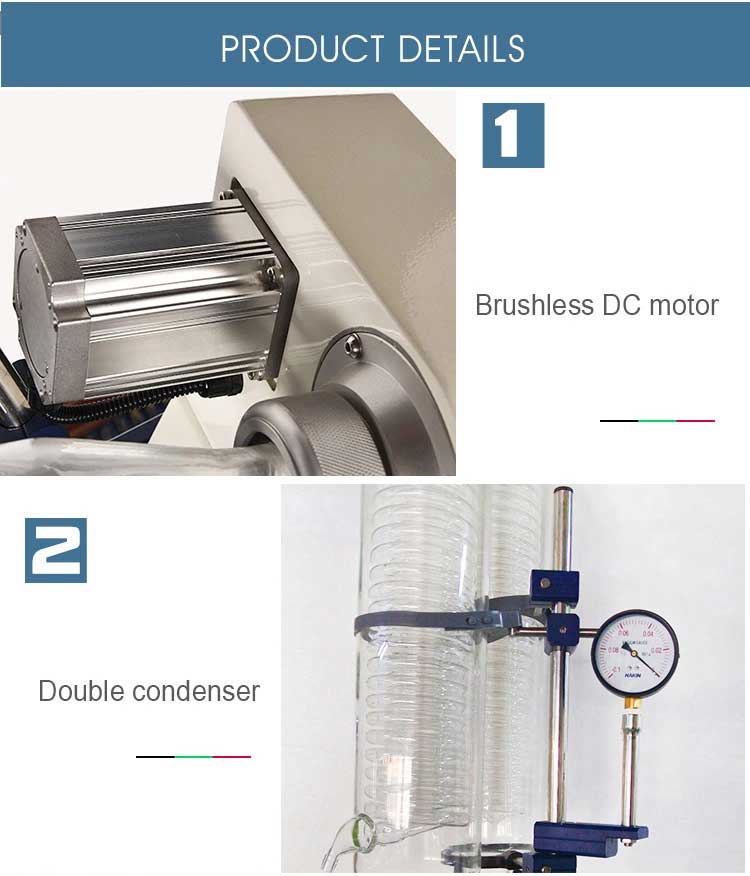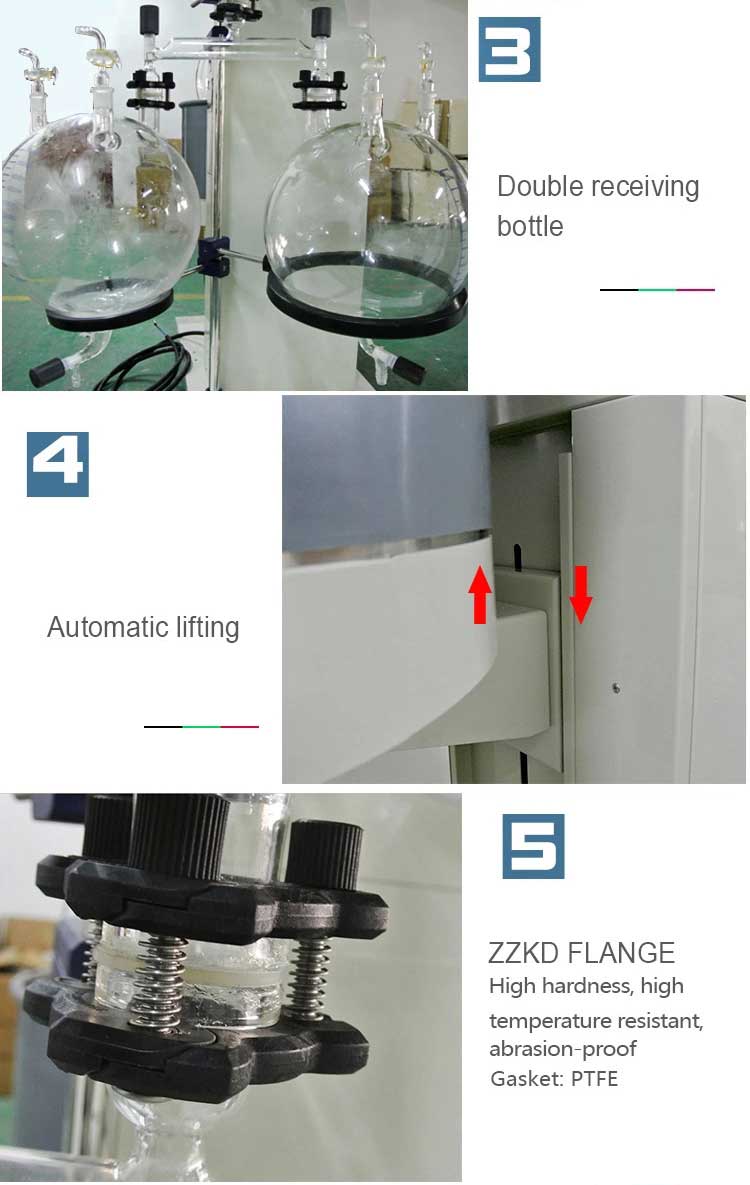 For the perfect use of the entire rotary evaporator system you may need the following equipment

- Low temperature constant temperature reaction bath

- Circulating cooler

- Constant temperature circulator
After sale

- 1 year warranty service and all life maintenance.

- Technical Egineer are avalible for oversea trainning.

- Free change for some parts

- Remote control technical consult

- Free installation DVD

- Maintenance plan

Package

Transport

Mode
D-R1050
Optimum ambient temperature(℃)
5~35
Working power supply (V/Hz)
Three phase 220-240V/380v/60Hz
Main engine speed control
Digital direct current stepless speed
Main engine speed (RPM)
20~110
Rotary electric machine (W)
Brushless 250
Temperature control (℃)
Digital display temperature control,room temperature -99
Maximum vacuum (Pa)
399.9(Below 3mmHg)
Rotating bottle (L)
50
Flange Size
Flange 125
Receiving bottle (L)
20
Condenser tube
Vertical double main condensers + one auxiliary condenser, High effeciency reflux coil condensers
Evaporation capacity (L/h)
Water ≥9
Alcohol ≥19
Water bath pot material
Stainless steel
Water bath pot size (mm)
Φ550×320
Lifting function
Electric + hand lift
Lift stick (mm)
0~180
Whole power (KW)
4.0(220-240V)
Outline dimension (mm)
1320×770×2340
1. How many degrees can the D-R1050 rotary evaporator be heated?
Up to 400 ° C temperature

2. Is the machine working loudly?
The sound is small and can be ignored

3. Can I adjust the height of the rotating bottle?
The height of the rotating bottle cannot be adjusted, but the heating surface of the bottle can be felt by adjusting the height of the water/oil pan (electrical lifting).

4. How long can the rotary evaporator work continuously?
The rotary evaporator can work all the time, but it needs to be shut down for maintenance and maintenance after running for a period of time, which can increase the service life of the equipment.

5. Can I monitor the temperature inside the instrument in real time?
Of course, you can observe the real-time temperature through the LED display for your convenience.
---